SCROLL DOWN TO VIEW SPECIAL PILGRIMAGES
---
Whether you are a past pilgrim or considering becoming one, we encourage you to enrich your life with travel that is relevant! Your travels will never be the same!
O m n e s   c u m   P e t r o ,   a d   I e s u m   p e r   M a r i a m!
All with Peter, to Jesus through Mary!
FIND A PILGRIMAGE
or scroll down for Special Pilgrimages
+++ 
The Great Shrines of France 
Amazing pilgrimage to the "Eldest Daughter of the Church", La France!"
June 14 - 25, 2020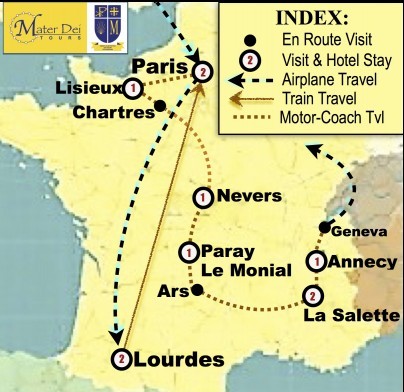 Join Twin Cities Pilgrims(our Minnesota affiliate), June 14, 2020, on an amazing and beautiful pilgrimage through some of France's most beautiful shrines!  A pilgrimage with a spiritual retreat at the Marian Shrine of Lasalette, with a spectacular French Alps setting! Visit the site of the Apparition of the Sacred Heart to St. Margaret Mary Alacoque in Paray-Le-Monial. The pilgrimage will be during the Feasts of the Sacred Heart and the Immaculate Heart of Mary! In addition, this pilgrimage includes a visit to Lisieux, home of St. Therese of Lisieux!  We also visit the famous Marian Shrine of Lourdes, where we learn about St. Bernadette, the peasant girl that conversed with The Immaculate Conception! Later on visit Nevers, home of the Convent of St. Gildard, where St. Bernadette lived the last years of her life.  St. Bernadette's incorrupt bodyis displayed in a glass coffin in the convent's chapel. The group will get more opportunities to witness 2 more incorrupt Saints: St. John Marie Vianney in Ars, and St. Catherine Laboure in Paris!  Additionally, the pilgrims will visit important sites of great interest like Chartres, home of the amazing Cathedral which houses the only known relic of the Virgin Mary! Her Veil! Tours of cities like unforgettable Paris and gorgeous Annecy, are also included.  Enjoy a ride on the famous TGV train!  There is more, but it is easier to read the brochure! Just click on the brochure button for more information.
Notes: Note 1) Chaplains are Fr. Marc Paveglio, from the Archdiocese of St. Paul/Minneapolis, and Fr. Gaurav Schroff, from the Archdiocese of Atlanta.  Note 2) Departures from Minnseapolis/St. Paul and Atlanta. Both cities have a limted inventory. All other cities will incur an additional cost.
Click here to view/print brochure
+ + +
Hungary & Poland
Join The Compass, the award winning newspaper from the Diocese of Green Bay, Wisconsin, on this amazing journey to Hungary and Poland, with a hint of Slovakia. Learn about the origins of our Faith in Central Europe and how these Christians heroically defended our Faith against invading forces. Visits in Hungary include Budapest, Mariamette, Tapolca Caves, Veszprem County, Herend, and Lake Balaton. Brief visit to Bratislava, Capital of Slovakia. In Poland we visit Czestochowa, Home of Our Lady's Icon. Warsaw, Niepokalanow (St. Maximilian Kolbe), Wadowice (JPII's birthplace), Auschwitz former concentration camp, Old Krakow, Shrine of Divine Mercy, Salt Mines of Wieliczka, and so much more!  If you ever wanted to witness the serene elegance of the "Blue Danube" and experience the magnificent beauty and amazing history of Poland & Hungary (the 2 European Bastions of Catholicism in modern times), then say yes! Come join us on this unforgettable pilgrimage!
NOTES: Note 1) Compass pilgrimages ALWAYS sell out before the deadline!  Note 2) Register now and take advantage of the "Early Angel Discount" of $100 per person (must register by Good Friday, April 10, 2020). Note 3) Compass pilgrimages come with extra inclusions, like all the tips are already included. Notes 4) Chaplain will be the one and only Fr. John Girotti, from the Green Bay Diocese!
October 2nd - 14th, 2020
+++

Keep the promises you make to yourself!!!
Fulfill your resolution to go to the Holy Land on a true Catholic Pilgrimage!  See for yourself why so many Mater Dei pilgrims return with a renewed love for Jesus and His Church. A promise: The Holy Mass, the rosary, the Holy Scriptures will never be the same!  Your life cannot be the same after you experience our pilgrimage!  Learn, hear, see, touch, taste and experience the Holy Land!!
No words are good enough to describe the experience of this pilgrimage!!
December 31st, 2019 - January 11th, 2020! Departing Chicago & Riverside, IA
February 4th - 14th, 2020! Departing San Antonio, TX
March 4th - 14th, 2020! Departing Chicago, IL (Private Group)
April 14th - 24th, 2020! No longer public
July 15th - 26th, 2020! Departing Chicago, IL & Madison, WI
October 5th - 16th, 2020! Departing Chicago O'Hare
October 20th - 30th, 2020! Departure city TBA
October 28th - November 7th, 2020! Departing Minneapolis, MN
November 7th - 17th, 2020! Departing Pittsburgh & Chicago
December 31, 2020 - January 11, 2021! Departing Minneapolis
Other private (not listed) pilgrimages may open up to the public, feel free to ask us!
ACT SOON BEFORE SPACE DISAPPEARS!
Click here to see our HOLY LAND Page and SCROLL DOWN
STAY TUNED!
+++

 
England & Ireland
Lands of Martyrs and Saints
Due to scheduling issues with Priests, this pilgrimage has been postponed to 2021. We apologize to all who have been patiently waiting! We can confidently say is that it is worth the wait! 
Contact us to join the informational list to receive our England and Ireland Pilgrimage Brochure before it is published!   
Click HERE and mention that you wish to be on the Ireland List to receive information.
+++
WAITLIST IS OPEN!
+ + +
True Catholic Pilgrimages