S C R O L L  D O W N  T O  V I E W  S P E C I A L  P I L G R I M A G E S
---
FIND A PILGRIMAGE
or scroll down for Special Pilgrimages
 

+++
OUR LADY OF GUADALUPE
MEXICO
Join us on Mater Dei's most spiritually impacting and inspirational Marian Pilgrimage visiting fascinating places where we learn about the early stages of our faith in the Americas. See the places where evil was conquered under the mantle of the Blessed Virgin Mary!  Experience the gorgeous colonial city of Puebla. Hike the largest pyramid in the world in Cholula.  Visit the amazing St. Michael's Miracle and Our Lady of Ocotlan where you'll hear about astounding testaments of faith.  Experience all the beautiful and cultural places of the new world's largest city, Mexico City, including the home of St. Juan Diego, the remains of Blessed Miguel Pro, Ancient Teotihuacan, the canals of Xochimilco, the churches of Coyoacan, and of course, visit twice the Shrine of Our Lady of Guadalupe. See the only true picture of Our Lady that is supernaturally created! 
+++
Keep the promises you make to yourself!!!
Fulfill your resolution to go to the Holy Land on a true Catholic Pilgrimage!  See for yourself why so many Mater Dei pilgrims return with a renewed love for Jesus and His Church. A promise: The Holy Mass, the rosary, the Holy Scriptures will never be the same!  Your life cannot be the same after you experience our pilgrimage!  Learn, hear, see, touch, taste and experience the Holy Land!!
No words are good enough to describe the experience of this pilgrimage!!
October  10 - 22, 2022: Departing Chicago, O'Hare & Minneapolis St. Paul
More links to brochures coming soon! Other private (not listed) pilgrimages may open up to the public, feel free to ask us!
HOLY LAND IS OPEN TO ALL MATER DEI PILGRIMS!
ACT SOON BEFORE SPACE DISAPPEARS! "EARLY ANGEL" DISCOUNTS MAY BE AVAILABLE WITH SOME PILGRIMAGES! 
Click here to see our HOLY LAND Page and SCROLL DOWN
+++
Pilgrimage to Italy with Fr. Brandon Moravitz
Italia Gloriosa - Glorious Italy!
Join us on this unforgettable pilgrimage to Italy to pray at places made famous by the Saints as well as Divine Providence through history!  Visit Milan (home of the Duomo), Magenta and Messero (home of St. Gianna Molla), Turin (housing of the Shroud, the remains of Don Bosco, Pier Giorgio Frasatti, Dominic Savio and more), Genoa (home of Christopher Columbus), Santo Stefano d'Aveto (home of the Our Lady of Guadalupe Standard from the Battle of Lepanto), Assisi (home of St. Francis and St. Clare), Siena (home of St. Catherine, St. Bernardino & Eucharistic Miracle), and Rome & the Vatican.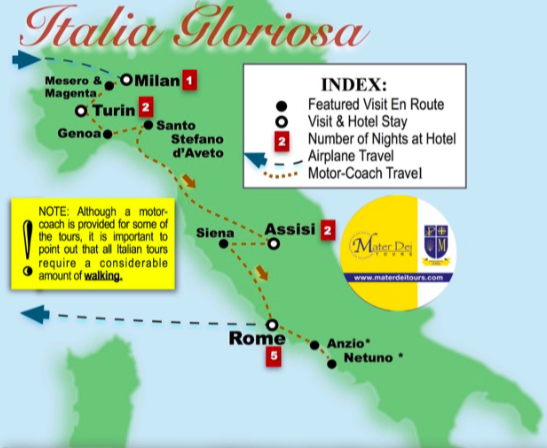 * Possible  excursion to Netunno (St. Maria Goretti), Anzio (American Cemetery). * Excursion will not take place if we are approved for participation in the Papal general Audience with the crowds in St. Peter's square.

As with all Mater Dei pilgrimages to Italy, you will receive  a top-notch visit of Rome's treasures! 
Remember that a Plenary Indulgence is offered to pilgrims (meeting all the traditional requirements) who visit the 4 Patriarchal Basilicas in Rome!  
** With a daily spiritual program including daily Mass, Rosary, Divine Mercy Chaplet, meditational reading and spiritual talks!  Strengthen your faith in a most unique way! Join us on this 
October 24 - November 04, 2022
Click here to see the brochure!
+++
+++ 
+ + +
True Catholic Pilgrimages

 
NEW PHONE NUMBER: 1-608-440-3700